Remodeling – it ain't easy. It ain't quick. It ain't cheap.
But that's all we want right? We want it to be easy, we don't want to make a hole in our wallets, and we just want to get it over with so we can finally use and enjoy the space. As great as that sounds though, most of the time when we try to go that route, things don't turn out the way you want them to.
Exhibit A – Our guest bath. 2 years after buying our house, we're still working on our master bath believe it or not, but our guest bath was finished a lot quicker so that well- we can have a usable bathroom. We completely gutted the guest bath and started from scratch. Below, I'll explain the different phases our guest bath went through, what it taught me, and the final result of it (for a little while at least lol).
Making quick decisions can lead to a change of mind because you're not satisfied with the results. Going for what's cheaper can be great but what if you regret it and end up changing it all – again? Won't that be spending even more money? Here's what I learned by remodeling our guest bath and hope not to make the same mistakes twice!
Phase 1: Updating the Outdated
That first picture was how the guest bathroom looked back in the glorious days of when we purchased the house. Before even moving in, we gutted everything out and the only thing we did keep was the layout. We added a bathtub since there wasn't one in the master bath either. Because I couldn't find a vanity at a decent price that I loved, I talked to Leo about him just making one. Turns out it was easy for him to do with leftover cedar that he received from his job. What we didn't realize though, was that the floor in the bathroom was crooked so the vanity sits uneven, making the countertop uneven. NO GOOD! So if you've been following along on the Insta, I'll show you how we fix that after living with a simple shim shoved under the counter for almost 2 years now haha! I do wish we had a vanity with drawers but I guess it's okay since the linen closet isn't far away and this is technically supposed to be just the "guest bath." We were running out of time and needed to save funds where we can so making a vanity like this was like the only choice (this kind of vanity seems to be popular now). I also wish I thought about tile designs like I do now. Leo made the tile decisions for the guest bath which are great but I wish there was a little more of a classic wow and a little less like basic subway tile. I love the classic look and subway tile is totally affordable but we also should've added some different tile pieces to create something like this (not exactly like this but you get the point) that doesn't make it basic! I was just overwhelmed with my pregnancy and didn't voice my opinion unless I was absolutely sure. Ugh.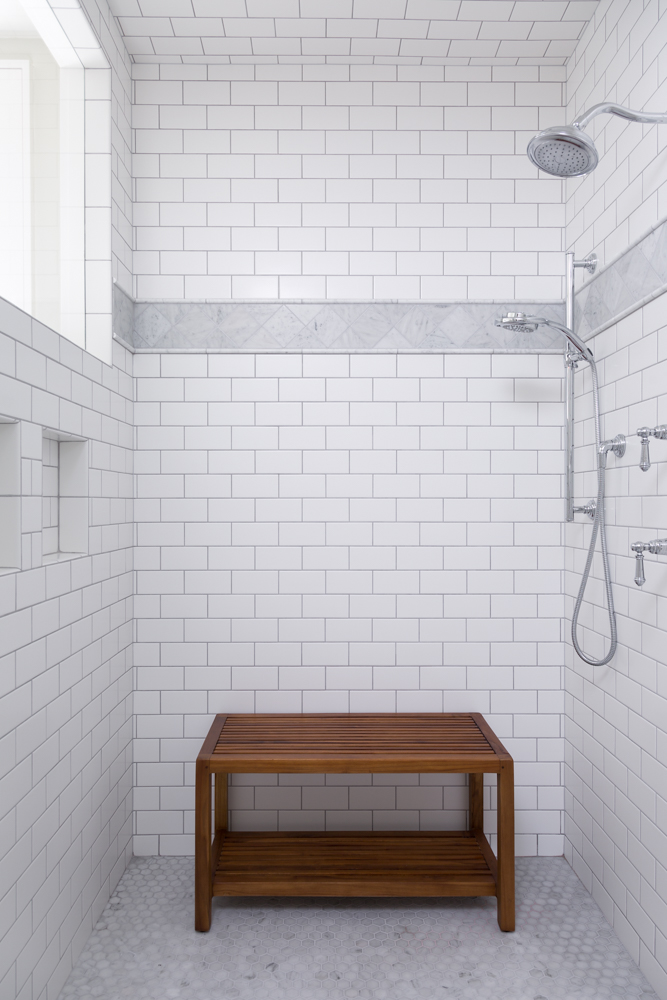 Phase 2: A Blank, White Canvas
This is when we were almost done with the guest bath after gutting out the outdated. I wish I had another picture but this is the only one that I seem to have. We painted the walls white, similar to majority of the house because I wasn't sure what I wanted yet. I figured I can paint it whenever (which of course has to be around the vanity and toilet since it was installed already). White seemed to be a trendy color for bathrooms (and still is) so I left it for a bit. One problem we did have though was getting water on that back wall, behind the sink. And the fact that there wasn't much counter space for even a jar of hand soap. So that's what led us to phase 3 of the guest bath (which if we just got some extra tile or found a piece of counter to place against the wall, wouldn't have happened).
Phase 3: A Moody-ish Bathroom
This is when I tried out dark paint and although I loved the color I chose, it just wasn't right for the space. In the guest bath, it didn't show off the true color unless there was lots of natural light…which wasn't the case in here. It looked more like Lucas's closet and bedroom color. I love a moody room but it just wasn't right for this space. It would've looked great if we had wainscoting halfway up the wall or subway tile to break up the dark color though! To fix the problem of the water getting on that back wall (and with Leo disagreeing to add tile subway tile back there (which we should've done right away)), I decided to add a cedar shelf low enough so that water wouldn't get back there. BUT OF COURSE, we ran into problems. The mirror that we changed wasn't big enough to be that low (which irked me because if I knew that, I would've left it) so Leo suggested on making a cedar "backsplash" that would support the mirror and shelf. I changed the mirror because I found an image on Pinterest (I wish I could find it) that convinced me to do a long shelf instead of just a small one. A big mirror with a long shelf feels more balanced than a long shelf and that small, gold mirror we had in phase 2. I agreed with Leo for the cedar shelf to be higher with the cedar backsplash even though I wasn't 100% on board with it (I can be convinced easily if you're doing the work because I feel bad lol). Completely hate it when I still agree with something even though it's not at all what I had in mind because now I twitch looking at it hah. But I only have myself to blame!
Phase 4: A Dramatic Repainting Job
You can watch the "beforish" tour of the bathroom here if you missed it! By this point, I had already painted the walls back to a lighter color that we had leftover and changed out the vanity light that made more sense to the bigger mirror. I also sold the runner for something that wasn't color on color with the walls and smaller so you can see more of the tile! The changes that we made didn't cost us anything except for a couple decor pieces. We added a mini gallery with art that I DIYed and thrifted, and painted the cedar shelves with leftover milk paint that we had. I originally wanted to use an antique white stain on the vanity and shelves but I loved how the milk paint looked on our outdoor dining! Check out this post to see the fun element that I added temporarily! I did what I can to make this space feel more complete and not lacking, so I didn't twitch every time I was in the bathroom thinking I shouldn't have done that in the first place, what was I thinking?! To be honest, if we just bought a little extra tile to use behind the vanity, I wouldn't have gone through so many phases to find a point where I love the space we created. I probably would've painted the vanity white still since I wasn't a fan of the orange tone but lesson learned, lol. When remodeling, think about functionality and what you love/want from the very beginning.
I have an older post of how the dark stage of the bathroom turned out and the budget rundown that we spent for gutting it and all. Even though it wasn't that long ago, I'm finally realizing what interiors and styles I'm drawn to and this guest bath definitely wasn't that! It sucks to say but I know I could've created a much nicer space if I wasn't so sucked into the "Rustic Pinterest" bathrooms and not spending the time figuring out what WE LOVE.
SO WHAT DID I LEARN FROM REMODELING A ROOM FOR THE VERY FIRST TIME?
1. Find inspo of more than one style so you know exactly what you're drawn to, create mood boards, and take many samples. Sometimes what you have in mind may not be functional, not be the best for the lighting, etc. Doing these extra steps will save your butt in many ways.
2. Don't be as cheap as possible. I don't mean to stay clear of clearance items, BUT INSTEAD, add that statement piece if you really want it. Add a design into that plain subway tile if you really like that. Get a little extra tile so that you can have it on all of your walls, not just in the shower. You'll end up saving more in the long run, because you won't want to remodel it again! If you can't because of funds (like the case was for us), see if there are cheaper prices offered somewhere or another tile you like that you can afford. Or wait on purchasing your accessories since that can always wait.
3. Take your time to figure out EXACTLY what you want. Then if possible, think on it for a couple weeks before moving on with your decisions, just to be sure that you won't change your mind.
4. Most of the time, you just gotta go with your gut and not be persuaded by other's opinions. Unless you're living with that person – then you gotta compromise!
5. Always, always think about functionality. It'll keep your life from being a hot mess lol. We hung a shelf in Phase 2 to hold things like q-tips ( in a cute container of course), a close-up mirror, epsom salt, etc. I also added a cute, thrifted stool near the bathtub to hold my oatmeal that I wash my face with and a candle that I can light up if I ever wanted to take a bath. Since our vanity has no drawers, our linen closet can only hold so much.